Valeyo 2021 By Mauro
Posted by Zoran Ristanović | Tue 26 Sep 2023 | Offer
Valeyo 2021 by Mauro
We are at the beginning of the Autumn tasting season and before I update you with new releases from the well known wineries (Ornellaia / Serre Nuove etc) I thought we should start the season with the new project from Garcia family - please meet Mauro Valeyo from Bierzo.
Most of you are familiar with their other wineries, Garmon, Mauro, San Roman, and associated wines which are in the Duero Valley and produce deep, rich and hedonistic wines. The idea with Valeyo is to produce lighter, more elegant wines with a different structure and aromatic profile. Eduardo (who now runs day to day operations for all Garcia family wineries) had found a perfect setting for this project in a little village of Valtuille de Arriba in Bierzo located some 250 km North-East from Tudela where Mauro is based. Due to its location close to Atlantic, the climate in Bierzo is much cooler then Duero Valley with higher rainfall, which combined with the structure of Mancia grape has provided all the elements needed for this new venture.
Bierzo itself is very different to other vine growing parts of Spain. I was there for the first time couple of weeks ago (just as the harvest for the whites was starting) and it looks and feels much more like Piemonte than Spain. Steep, lush, green mountain sides are sliced by mountain streams with orchards at the bottom and the vineyards at the top of the hills. Some vineyards I visited could only be accessed by foot and worked by caterpillar type of machinery - they are too steep for tractors (not unlike Piemonte). All in all, quite dramatic compared to gently rolling hills of Ribera, Rioja, Toro etc.
After a visit to Valeyo winery I had a very good lunch in little town of Villafranca and the buzz was palpable. The harvest was on the way in, grapes were looking very good, couple well known international journalists were on the table next to me talking and tasting with Raul Perez. Bierzo is a buzz word in the wine world these days/ It all started when Alvaro Palacios invested in his cousin's land some 10 years ago and helped him to make first notable wines from the region. They got 100 points for one of their wines in 2018 and Raul Perez just got 100 points for one of his vineyards. It's all Rock 'n' Roll !
I am not saying that Bierzo is making wines with investment capacity yet (although you can not find any of those 100 pointers for less than £ 500 -1000 per bot), but there is lot going on here. They are following Burgund/Piemonte model focusing on individual vineyards rather than the regional wines and journalists (and collectors) are loving it. The local authorities have just approved village appellations and even single vineyards appellations in Bierzo (1er Cru Equivalent in Burgundy and Valeyo is one of them). So quite a bit to attract collectors and a lot of top end wineries from rest of Spain are investing in the area…... Addmitedlly, I have not managed to taste any great wines at 5 or 10 y of age, so can't really comment on how they evolve, but there is definitely great value and great pleasure to be had here for this style of wines.
And so, on to the star of the show:
Valeyo 2021, Mauro, Bierzo - £ 160.00 per case of 6 bottles under bond
ZR – 17+(+);
I have had few decent Mancias over the years (none of the 100 pointers) but was never impressed as much as with this release. It could be the magic of 2021 vintage which seems to be excellent right across Spain, or that familiar purity and concentration which Garcia family seems to get out of their grapes, but this one really ticks the boxes for me. Tasted/drunk on 4 occasions since spring this year (bottled December 2022), it is gaining in complexity and definition with every month. Inky purple in the glass, the wine displays black summer fruit, orange peel and classic anise/liquorice on the nose which is typical for Mencia. It is quite unique in it's complexity – a hypothetical blend of the best of Loire Cabernet Franc and Northern Rhone Syrah. There is a fine combination of purity and complexity on display here; very difficult to pin down other than it is a very fine drop of wine and it grows on you with every sip. Light and with uplifting citrus acidity, this is really fresh and designed to accompany a wide variety of food. It would work very well with fish ( with some fennel) as well as most slowly cooked , aromatic dishes. 3 bottles that I opened over the last few months were all showing more complexity and finesse on the day 2 and 3, so I would suggest that letting it sleep for 12 – 15 moths would be very helpful (although I am likely to open a bottle as soon as the stock land, "just in case"). There is a lot of flavour and personality here for this money – an excellent deal and a unique wine.
The grapes are grown organically and the 2021 was bottled at only 13% of alcohol. Production is tiny less than 2000 cases of 6 bott ( see the cellar picture below – that is the entire production) and I have secured 360 bott for the UK.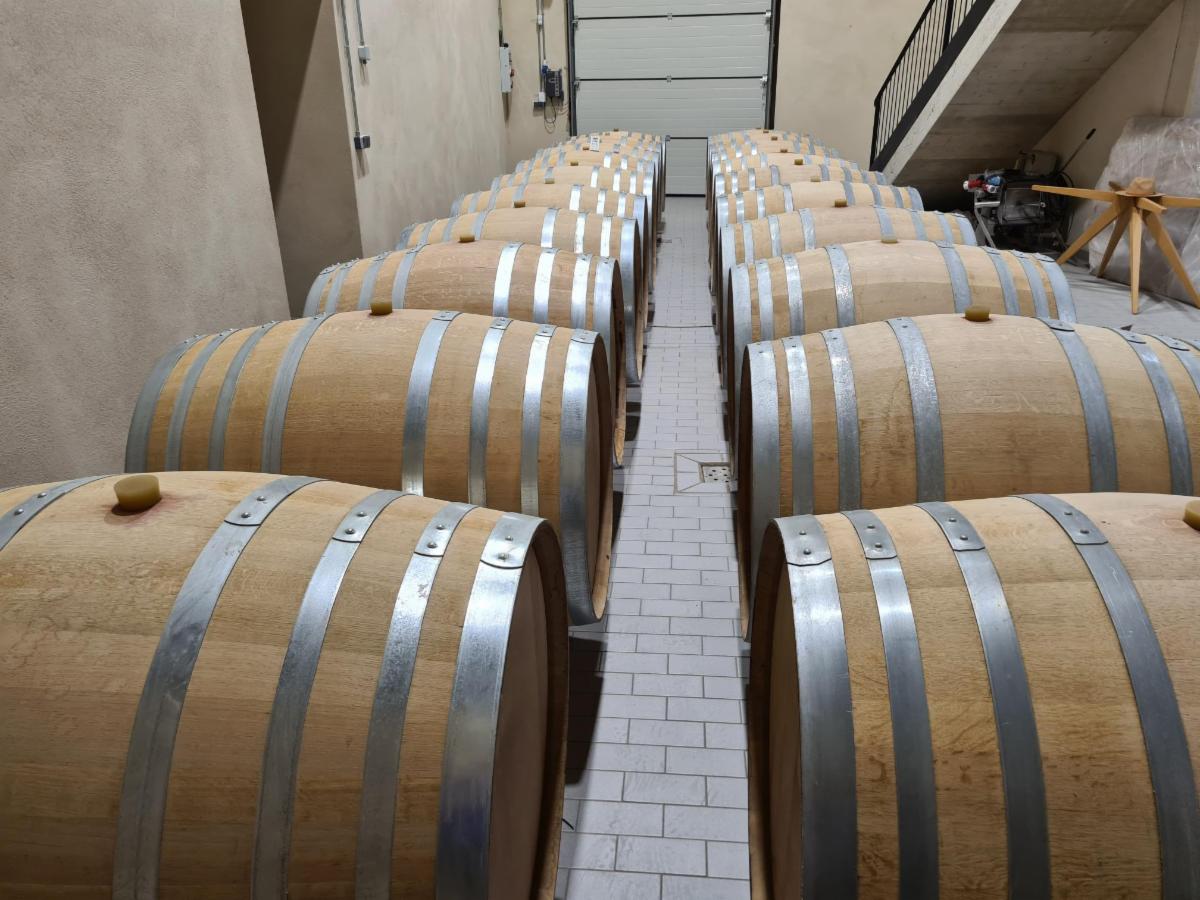 Wishing you all the best
Zoran